For applications in the chemical and petrochemical industry our Chemical Standard Pumps series CNP are ideal. The dimensions and performance of these pumps are in accordance with ISO 2858 (similar to ASME B73.1). Different executions from standard over ISO 5199 up to API 610-OH1 are possible. The versions can be supplied from single pumps with free shaft end to complete systems with base plate, motor, and all necessary accessories.
Versatile material selection even for highly corrosive mediums
Different sealing varieties (direct mounting, cartridge versions or magnetic drive)
Highest efficiency
Low NPSH version by use of inducer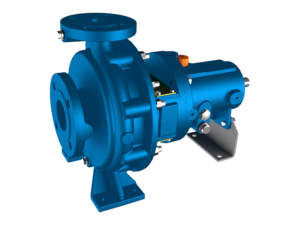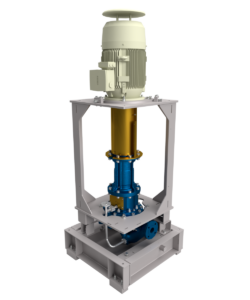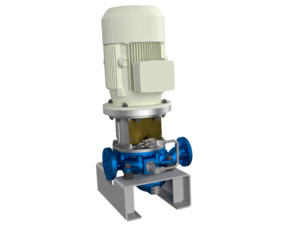 The vertical Inline Pumps series INP are characterised by space saving set up possibilities. These pumps are suitable for clean liquids and can be executed completely to API 610-OH3 or OH4.
Nozzle arrangement at same height and rotation in 90° steps
Back-pull-out-system at all executions
Versatile sealing and material combinations
Changeable wear rings on impeller and in casing
Pumps series CPP are horizontal Centreline Process Pumps with feet at the middle of the axis. An execution to ISO 5199-Family 3 or API 610-OH2 can be supplied. In addition, this series can be produced as sump execution with intermediate pipe and mounting plate (CPPVS).
Possibility of different sealing executions and high corrosion resistant materials
Suction piece with carved optimised flow root faces
System pressures to 40 bar as standard
Changeable wear rings on impeller and in casing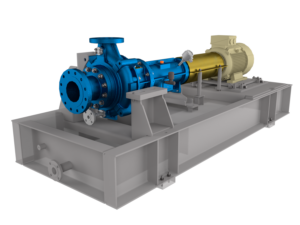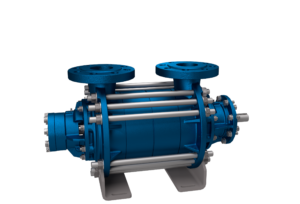 Multistage Pumps series SKP are usable horizontally or vertically. This series is ideal for high system pressures of up to 250 bar. Multiple executions to API 610-BB4/BB5 are possible.
Reduction of axial bearing forces through pressure reverse stage
Inner bearings in silicon carbide
Versatile materials and seal options