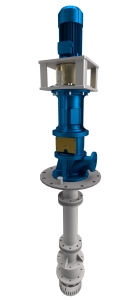 For vertical mounting, our Sump Pumps series ETP suit best. This series is in accordance with the construction form API 610-VS1 or ISO 5199-Family 10/12, therefore these pumps can be executed completely to API 610.
Mounting length flexible
Medium lubricated bearings
Guiding bearings in the intermediate pipes from silicon carbide
Horizontal pressure nozzle above mounting plate
Various materials and seal options
Our Chemical Standard Pumps series CNP can as well be used in this application. Executions to API 610-OH1 or ISO 5199 are possible.
Further information to this series can be found in "Chemical & Petrochemical Industry".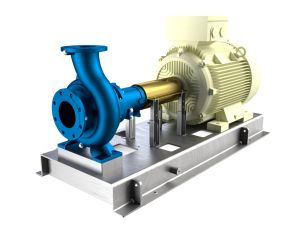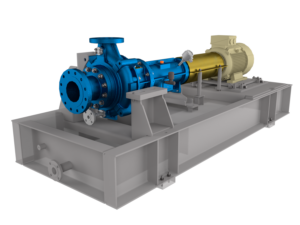 Centreline Process Pumps series CPP characterise themselves through a horizontal construction. In addition, their feet are at middle of axis, therefore an execution to API 610-OH2 or ISO 5199-Family 3 is possible. The pumps are  designed for 40 bar as standard, higher pressures are possible. Our version CPPVS is a sump execution with intermediate pipe and mounting plate.
Versatile material and seal selection even for highly corrosive mediums
Highest efficiency
Option with inducer for low NPSH
Bearing sealing with contact free labyrinths
Inline Pumps series INP can be used multifunctional in this application. The pumps characterise themselves with their space saving set up options and can be produced completely to API 610-OH3 or OH4.
Information to this series can be found in "Chemical & Petrochemical Industry".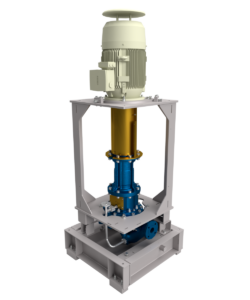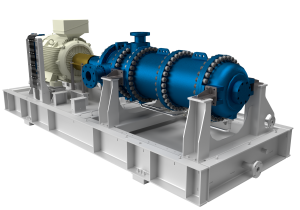 The multistage centrifugal pumps series SKP are usable horizontally or vertically. These pumps are ideal for high system pressures of up to 250 bar. Multiple executions to API 610-BB4/BB5 are possible.
Details for this series are in section "Chemical & Petrochemical
Industry".
For many of the presented pump types, a system for supply to the mechanical seal can be necessary. Seal systems to customer request or to API 682 are possible.
Pressures up to 250 bar
Variety in materials up to use of titanium
Air or water cooling
Instruments analogue or digital